Custom 6ft Curved Tabletop Tension Fabric Trade Show Backwall Display (Frame + Graphic)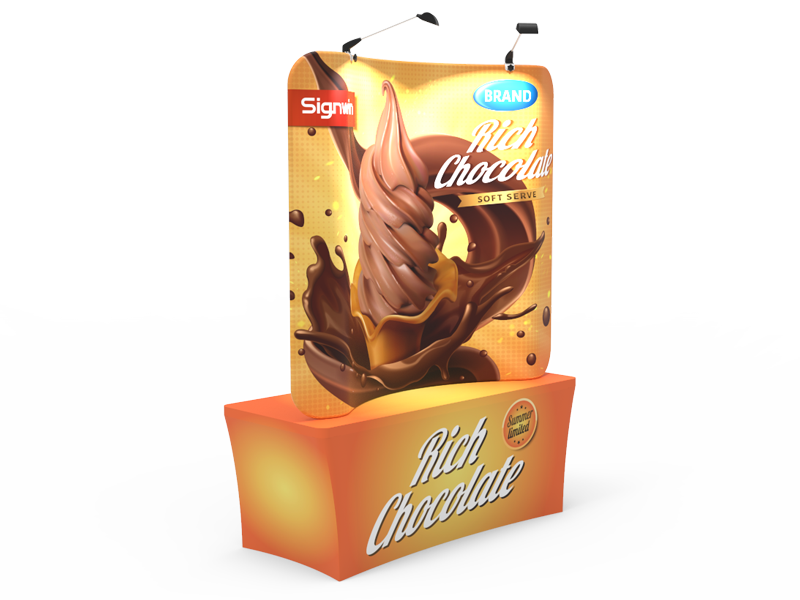 Custom 6ft Curved Tabletop Tension Fabric Trade Show Backwall Display (Frame + Graphic)
(In Stock)

Upload Artwork
Custom 6ft Curved Tabletop Tension Fabric Trade Show Backwall Display (Frame + Graphic)
6X5.4-CD-TTFD
6X5.4-CD-TTFD
Signwin Artwork Template_6ft Curved Tabletop Tension Fabric Backwall Display_6X5.4-CD-TTFD.pdf
Download
Custom 6ft Curved Tabletop Tension Fabric Trade Show Backwall Display (Frame + Graphic)
Product Code:
6X5.4-CD-TTFD |
Availability:
In Stock
New Year Sale
15% Off
Coupon: BOOTH013
---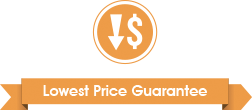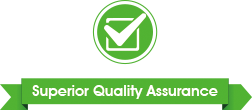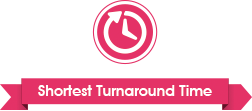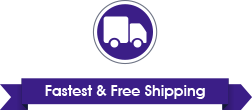 Are you looking for a tru-fit backwall display for the coming event? Signwin 6ft curved tabletop tension fabric backwall display should meet your requirements. With full color & high resolution single-sided or double-sided heat transfer printing tension fabric graphic and optional LED lights, your business will shine with head-turning look at all events, conventions and expos!
Adopting the latest backwall display trends & technologies, an interlocking pole system with bungee cord to be sturdy and well connected, and seamless, washable, wrinkle free, inflaming retarding and eco-friendly heat transfer tension fabric graphic that is capable to slide over the curved aluminum snap-tube frame like a pillowcase, you will find that set up this easy-to-assemble display just as easy as a pie without any tools. Moreover it can save you the shipping cost and installation & dismantlement time. No wonder it is widely used in the industry.
Applications:
Indoor & Outdoor Advertising, Shows, Exhibitions, Events, Fairs, Promotions, Weddings, Parties, Photo Booths, Press Conferences, Seminars, Stages, Concerts etc.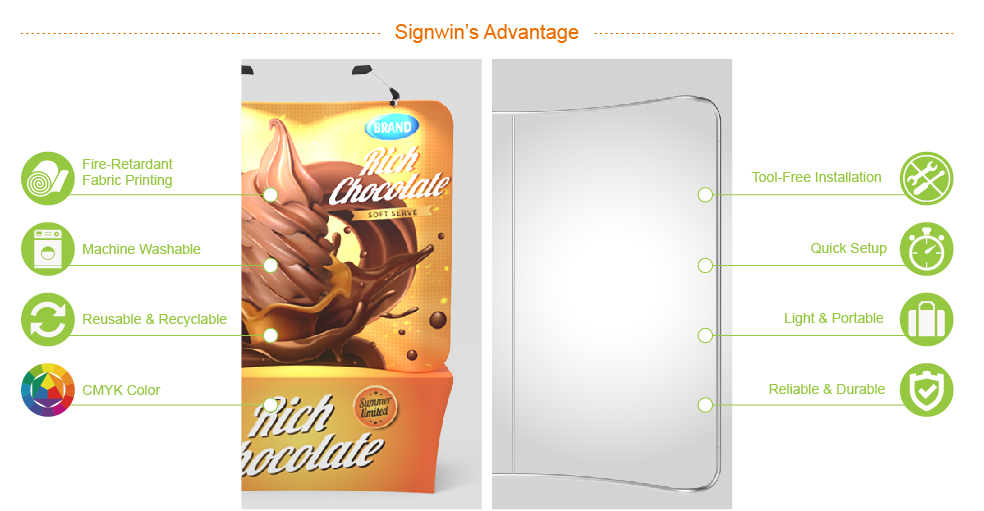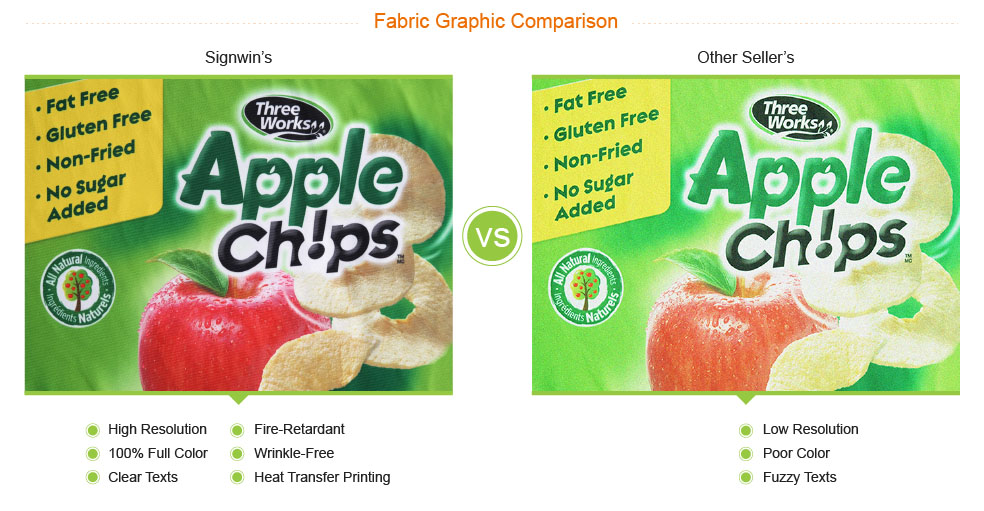 Standard Kit Includes:
1pc 6ft Curved & Collapsible Aluminum Snap-Tube Frame
1pc Zippered Heat Transfer Printing Tension Fabric Graphic
1pc Zippered Oxford Duffel Bag
2pcs Trade Show Display LED Light Clips
Optional Upgrades:
2pcs Trade Show Display LED Lights
Specifications:
Display Size: W72" x H65" Inches
Graphic Size: W80" x H69" Inches
Packing Size: W8"x H8" x D31.5" Inches
Fabric Graphic Material:
8.8 oz. 100% Polyester Fabric