Custom 8ft Curved & Portable Tension Fabric Trade Show Backwall Display
Your Price: $629.93 $839.90 25% OFF

Free Shipping
Extra 15% OFF Buy Earlier, Big Savings Christmas Day Sale
Code: XMAS2023
2022DAYS99HRS33MINS33SEC
- Hassle-Free Online Design Tool
- No Hidden/Setup Fee
- Free Ground Delivery on Orders over $900
Your Price: $348.71 $464.95 25% OFF

Free Shipping
Extra 15% OFF Buy Earlier, Big Savings Christmas Day Sale
Code: XMAS2023
2022DAYS99HRS33MINS33SEC
- Hassle-Free Online Design Tool
- No Hidden/Setup Fee
- Free Ground Delivery on Orders over $900
Your Price: $281.21 $374.95 25% OFF

Free Shipping
Extra 15% OFF Buy Earlier, Big Savings Christmas Day Sale
Code: XMAS2023
2022DAYS99HRS33MINS33SEC
- Hassle-Free Online Design Tool
- No Hidden/Setup Fee
- Free Ground Delivery on Orders over $900
Product Descriptions
Are you looking for a tru-fit backwall display for the coming event? Signwin 8ft curved tension fabric backwall display should meet your requirements. With full color & high resolution single-sided or double-sided heat transfer printing tension fabric graphic and optional LED lights, your business will shine with head-turning look at all events, conventions and expos!
Adopting the latest backwall display trends & technologies, an interlocking pole system with bungee cord to be sturdy and well connected, and seamless, washable, wrinkle free, inflaming retarding and eco-friendly heat transfer tension fabric graphic that is capable to slide over the curved aluminum snap-tube frame like a pillowcase, you will find that set up this easy-to-assemble display just as easy as a pie without any tools. Moreover it can save you the shipping cost and installation & dismantlement time. No wonder it is widely used in the industry.
Application Scenarios:
Indoor & Outdoor Advertising, Shows, Exhibitions, Events, Fairs, Promotions, Weddings, Parties, Photo Booths, Press Conferences, Seminars, Stages, Concerts etc.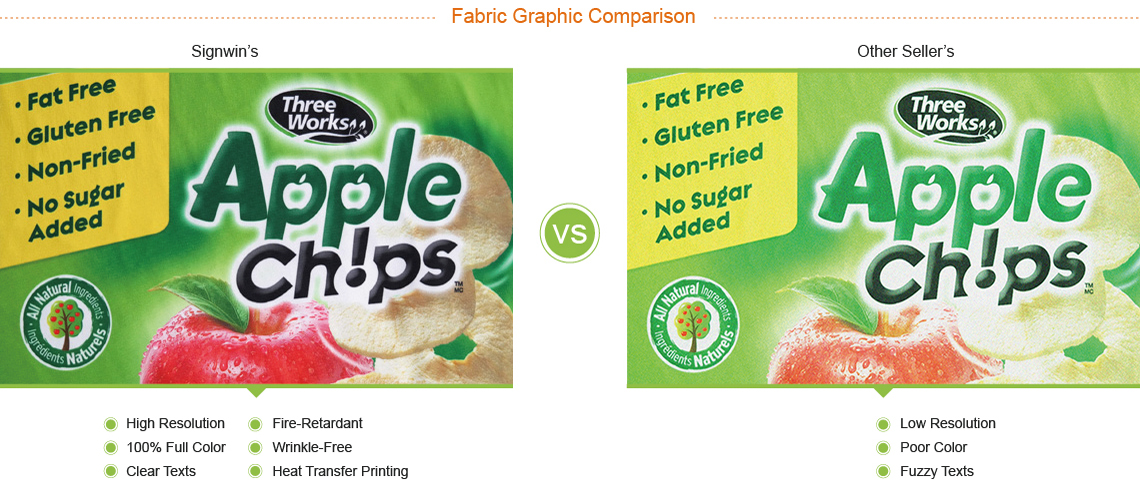 Standard Kit Includes:
1pc 8ft Curved & Collapsible Aluminum Snap-Tube Frame
1pc Zippered Heat Transfer Printing Tension Fabric Graphic
1pc Zippered Oxford Duffel Bag
2pcs Trade Show Display LED Light Clips
Optional Upgrades:
2pcs Trade Show Display LED Lights
1pc Hard Case to Podium with Graphic
Specifications:
Display Size: W91" x H91" x D20" Inches
Graphic Size: W104" x H92" Inches
Packing Size: W11" x H32" x D11" Inches
Fabric Graphic Material:
8.8 oz. 100% Polyester Fabric
Customer Reviews (2)
Frequently Asked Questions
Q:Can I Print in Double Sides?
A:
Yes, you can print in double sides either with same or different graphic design.
Check Hot Product Tags Inspired by Customers Like You Who Viewed This Product