Custom 8ft Flat & Lightweight Tension Fabric Trade Show Backwall Display
Your Price: $622.43 $829.90 25% OFF

Free Shipping
Extra 15% OFF Buy Earlier, Big Savings Christmas Day Sale
Code: XMAS2023
2022DAYS99HRS33MINS33SEC
- Hassle-Free Online Design Tool
- No Hidden/Setup Fee
- Free Ground Delivery on Orders over $900
Your Price: $344.96 $459.95 25% OFF

Free Shipping
Extra 15% OFF Buy Earlier, Big Savings Christmas Day Sale
Code: XMAS2023
2022DAYS99HRS33MINS33SEC
- Hassle-Free Online Design Tool
- No Hidden/Setup Fee
- Free Ground Delivery on Orders over $900
Your Price: $277.46 $369.95 25% OFF

Free Shipping
Extra 15% OFF Buy Earlier, Big Savings Christmas Day Sale
Code: XMAS2023
2022DAYS99HRS33MINS33SEC
- Hassle-Free Online Design Tool
- No Hidden/Setup Fee
- Free Ground Delivery on Orders over $900
Product Descriptions
Get to attract more customers to visit your booth on events? 8ft flat tension fabric backwall display from Signwin is developed on your demand for trade show booth displays, promotions and fairs, exhibitions, new product launches etc. This model is designed for lightweight and easy to install, which requires only 1 person to install within 10 minutes. Combined with heat transfer tension fabric banner and optional LED lights, your booth becomes extraordinarily gorgeous!
Utilizing top quality heat transfer printing on recyclable & wrinkle free graphic, your stretch banner becomes highly recognizable. Besides single-sided graphic print option, we also offer double-sided option, which creates unrivalled aesthetics. Moreover, the graphic is produced as pillow case mounted with an industrial zipper, which realizes the amazing ease of assembly.
Why do we define this backwall display is lightweight? That mainly owes to dismountable snap-tube aluminum frame. Each part is firmly interconnected with bungee cord, so you don't need to worry about numbering or losing them. Meanwhile, there are two feet to stabilize the display.
Application Scenarios:
Indoor & Outdoor Advertising, Shows, Exhibitions, Events, Fairs, Promotions, Weddings, Parties, Photo Booths, Press Conferences, Seminars, Stages, Concerts etc.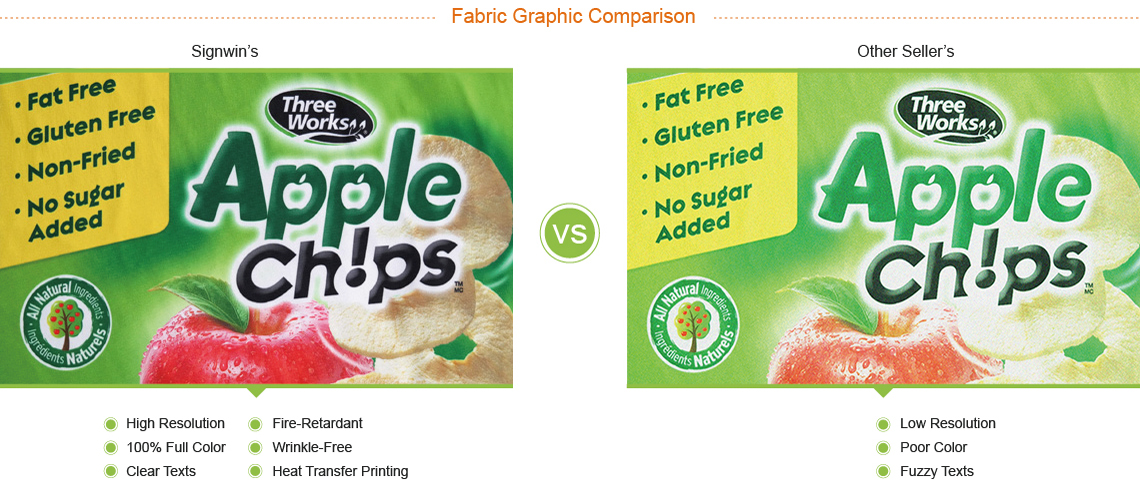 Standard Kit Includes:
1pc 8ft Flat & Collapsible Aluminum Snap-Tube Frame
1pc Zippered Heat Transfer Printing Tension Fabric Graphic
1pc Zippered Oxford Duffel Bag
2pcs Trade Show Display LED Light Clips
Optional Upgrades:
2pcs Trade Show Display LED Lights
1pc Hard Case to Podium with Graphic
Specifications:
Display Size: W91" x H91" x D12" Inches
Graphic Size: W91" x H91" Inches
Packing Size: W11" x H32" x D11" Inches
Fabric Graphic Material:
8.8 oz. 100% Polyester Fabric
Customer Reviews (4)
Frequently Asked Questions
Q:Can I Print in Double Sides?
A:
Yes, you can print in double sides either with same or different graphic design.
Check Hot Product Tags Inspired by Customers Like You Who Viewed This Product