Step and Repeat Video Backdrop Custom Printed Tension Fabric Display
Your Price: $622.43 $829.90 25% OFF

Free Shipping
Extra 15% OFF Buy Earlier, Big Savings Christmas Day Sale
Code: XMAS2023
2022DAYS99HRS33MINS33SEC
- Hassle-Free Online Design Tool
- No Hidden/Setup Fee
- Free Ground Delivery on Orders over $900
Your Price: $344.96 $459.95 25% OFF

Free Shipping
Extra 15% OFF Buy Earlier, Big Savings Christmas Day Sale
Code: XMAS2023
2022DAYS99HRS33MINS33SEC
- Hassle-Free Online Design Tool
- No Hidden/Setup Fee
- Free Ground Delivery on Orders over $900
Your Price: $277.46 $369.95 25% OFF

Free Shipping
Extra 15% OFF Buy Earlier, Big Savings Christmas Day Sale
Code: XMAS2023
2022DAYS99HRS33MINS33SEC
- Hassle-Free Online Design Tool
- No Hidden/Setup Fee
- Free Ground Delivery on Orders over $900
Product Descriptions
Introducing our innovative Step and Repeat Video Backdrop Tension Fabric Display Kit, the ultimate solution for creating a captivating visual experience. This comprehensive kit includes a snap-tube aluminum frame and a tension fabric graphic printing, allowing you to showcase your brand with vibrant, full-color images.
Versatile and customizable, this freestanding display can be combined with other tension fabric displays to create a unique and tailored look that aligns with your branding needs. With its modular design, you can easily expand or reconfigure the display to suit different event spaces and layouts, offering you maximum flexibility.
Setting up this multifunctional unit is a breeze. The snap-tube aluminum frame ensures quick and effortless assembly, saving you valuable time during event preparation. Additionally, the lightweight nature of the frame makes it highly portable and cost-effective to transport, eliminating the hassle and expense associated with bulky display systems.
In today's digital age, online conferences and virtual events have become increasingly prevalent. Our step and repeat video backdrop is optimized for these situations, allowing you to spread your brand and create a professional backdrop for virtual presentations. Utilizing our advanced heat transfer printing process, we guarantee clean and vibrant images that will make your brand stand out during any online conference.
If you're short on time or design expertise, don't worry—we've got you covered. Our team of skilled designers can assist you in creating a captivating step and repeat design. Simply upload or send us your logo and graphics, and we'll handle the rest. We will build the layout to ensure maximum visual impact, so you can focus on other aspects of your event planning.
Don't miss out on the opportunity to elevate your brand presence and make a lasting impression. Place your order now and take advantage of our cutting-edge step and repeat video backdrop tension fabric display kit. Experience hassle-free setup, cost-effective transport, and stunning visual appeal that will set your brand apart.
Application Scenarios:
Indoor & Outdoor Advertising, Shows, Exhibitions, Events, Fairs, Promotions, Weddings, Parties, Photo Booths, Press Conferences, Seminars, Stages, Concerts etc.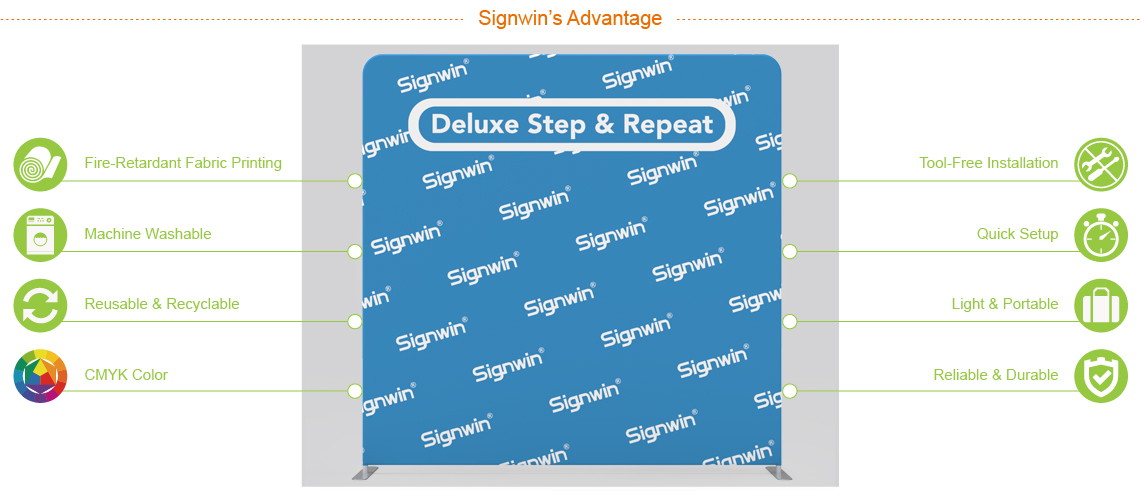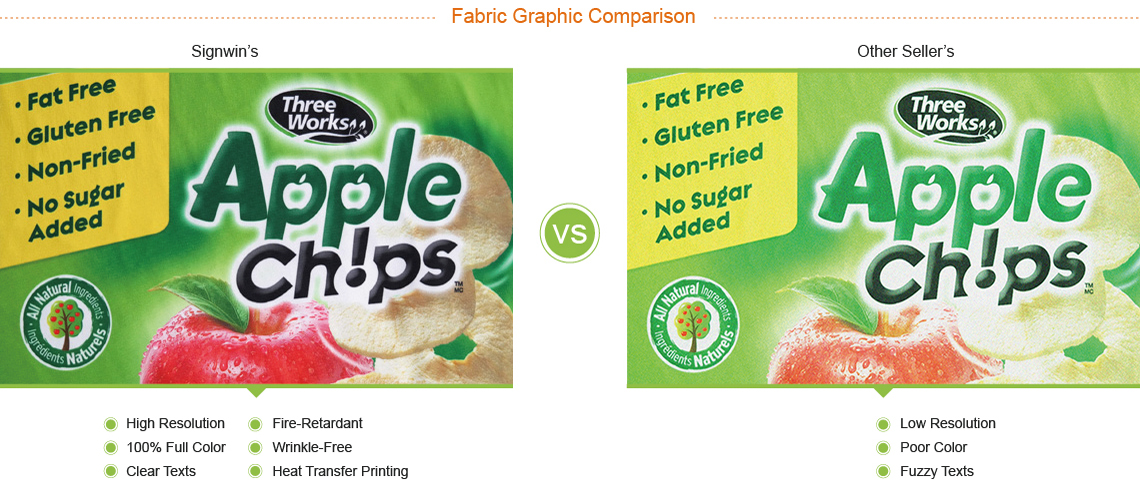 Standard Kit Includes:
1pc Flat & Collapsible Aluminum Snap-Tube Frame
1pc Zippered Heat Transfer Printing Tension Fabric Graphic
Fabric Graphic Material:
8.8 oz. 100% Polyester Fabric
Customer Reviews (11)
Frequently Asked Questions
Q:Can I Print in Double Sides?
A:
Yes, you can print in double sides either with same or different graphic design.
Check Hot Product Tags Inspired by Customers Like You Who Viewed This Product