Wash Hands Poster Banner Print Signage Holder Stand 01
Your Price: $229.90

- Hassle-Free Online Design Tool
- No Hidden/Setup Fee
- Free Ground Delivery on Orders over $900
Your Price: $119.95

- Hassle-Free Online Design Tool
- No Hidden/Setup Fee
- Free Ground Delivery on Orders over $900
Product Descriptions
Customers Like You Who Viewed This Product Also Viewed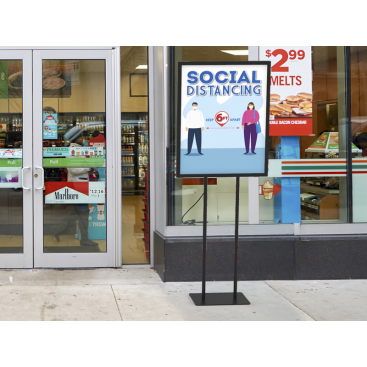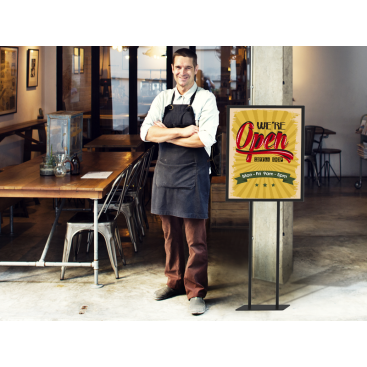 When it comes to novel coronavirus protection, the Centers for Disease Control and Prevention says the best way to prevent the spread of novel coronaviruses is to wash your hands thoroughly with soap and water. Signwin provides printable poster racks that can be used to help raise awareness of washing hands in public places such as schools, workplaces, and restrooms. They are designed for all audiences and can be ordered through Signwin. We provide eye-catching visual cues to wash hands and stop the spread of bacteria.
Rigid matte black frame is designed for heavy outdoor and indoor strength rigid signage applications, impact resistant, and able to withstand harsh environments. It is recommended for 22" x 28" signage permanent applications. The poster rack includes a black rectangular base, 1/8" thick double-sided PVC graphic printing, and the top card slot design facilitates quick loading of the screen. These materials provide the best durability and longevity. Signwin provides design services or you can upload your screen templates to meet graphic printing needs. The high quality, cheap, and quick turnover of the poster stand make it be one of the best-selling products. Signwin's anti-epidemic security poster stand is your best visual cue solution for washing your hands and preventing the spread of bacteria. In addition, if you want to increase revenue, you must display poster that promotes new services, products, seasonal promotions, special events, or any other promotional activities. Another way to increase the effectiveness of advertising is to follow a consistent design and planning. Our deals promotional & "We're Open" poster stands can expand your marketing scope. Let us have a large number of choices to help point the way!
Application Scenarios:
Indoor & Outdoor Advertising, Shows, Exhibitions, Events, Fairs, Promotions, Weddings, Parties, Photo Booths, Press Conferences, Seminars, Stages, Concerts etc.
Standard Kit Includes:
1pc Heavy-Duty Matte Black Frame for Wash Hands Poster Banner Print Signage Holder Stand
1pc 1/8" Thick Double-Sided PVC Graphic Printing for Wash Hands Poster Stand

Graphic Print Material:
1/8" Thick Double-Sided PVC Graphic Printing
Check Hot Product Tags Inspired by Customers Like You Who Viewed This Product
Customer Reviews (2)
Frequently Asked Questions
There are no frequently asked questions for this product...
Check Hot Product Tags Inspired by Customers Like You Who Viewed This Product