Social Distancing Poster Floor Display Stand Graphic Print 01
Your Price: $229.90

- Hassle-Free Online Design Tool
- No Hidden/Setup Fee
- Free Ground Delivery on Orders over $900
Your Price: $119.95

- Hassle-Free Online Design Tool
- No Hidden/Setup Fee
- Free Ground Delivery on Orders over $900
Product Descriptions
Customers Like You Who Viewed This Product Also Viewed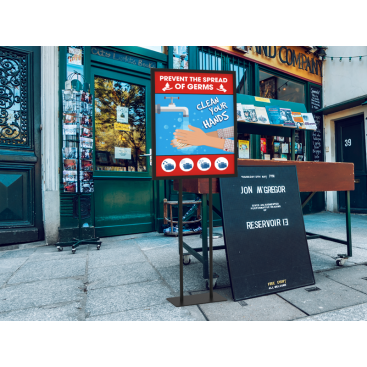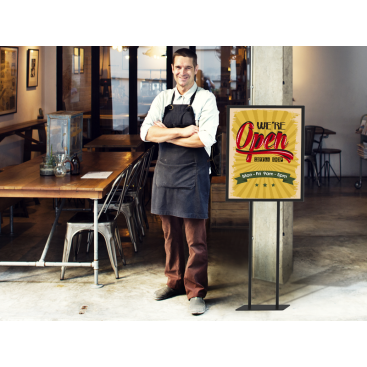 Due to the spread of disease, people must keep social distance from each other or stay healthy by washing their hands frequently. Be informed of the current social alienation restrictions and regulations at your business premises to ensure their safety and comply with government guidelines. Signwin offers COVID-19 safe sign poster floor stands to meet the different needs of customers. Browse our wide selection of retail signage stands, all standard graphics are available. Can be used in conference centers, hotels, halls, concerts, and retail stores, restaurants, and other live event areas. The signage frame is made of a durable frame, and the poster post has a rectangular base with screws. The top card slot design is convenient for quick loading into the screen. These slabs are made of PVC and have machine-polished edges. They are featured with 1/8" thick double-sided PVC graphic printing.
Our poster stand displays are for indoor and outdoor use. If you are looking for a simple base frame, we offer a variety of customized graphic printing advertising to promote the brand. Signwin offer customers respond to the government's call for anti-epidemic safety signs billboards, merchant promotional billboards, poster stands for reopening. This includes a durable heavy-duty matte black stand that can quickly display your widely installed advertising or promotional graphic. High quality and cheap make it be one of our best-selling products! We offer graphic design services or you can upload pictures to meet your needs. Signwin provides the best solution for your poster sign holder floor stand display needs. 

Application Scenarios:
Indoor & Outdoor Advertising, Shows, Exhibitions, Events, Fairs, Promotions, Weddings, Parties, Photo Booths, Press Conferences, Seminars, Stages, Concerts etc.
Standard Kit Includes:
1pc Heavy-Duty Matte Black Frame for Social Distancing Poster Floor Display Stand
1pc 1/8" Thick Double-Sided PVC Graphic Printing for Social Distancing Poster Stand

Graphic Print Material:
1/8" Thick Double-Sided PVC Graphic Printing
Check Hot Product Tags Inspired by Customers Like You Who Viewed This Product
Customer Reviews (1)
Frequently Asked Questions
There are no frequently asked questions for this product...
Check Hot Product Tags Inspired by Customers Like You Who Viewed This Product