Custom 10ft Pioneering & Ultralit SEG Lightbox Tension Fabric Trade Show Backwall Display
Your Price: $2,999.90

Free Shipping
- Hassle-Free Online Design Tool
- No Hidden/Setup Fee
- Free Ground Delivery on Orders over $900
Your Price: $999.95

Free Shipping
- Hassle-Free Online Design Tool
- No Hidden/Setup Fee
- Free Ground Delivery on Orders over $900
Product Descriptions
Looking to enhance your marketing efforts with captivating visual displays? Look no further than our cutting-edge SEG frames and displays. Whether you're gearing up for a trade show, exhibition, or simply want to elevate your brand presence, our SEG display solutions have got you covered. With a commitment to quality and innovation, we're proud to introduce our wide range of products designed to make your brand stand out.
Our SEG displays are engineered to deliver a seamless and appealing presentation that leaves a lasting impression on your audience. The magic lies in the Silicone Edge Graphic (SEG) technology we incorporate. This revolutionary approach involves using a specialized silicone strip that seamlessly fits into a groove on the edge of an aluminum frame. The result? A frameless appearance that ensures your graphics are displayed with unparalleled clarity and smoothness. Say goodbye to wrinkles and unsightly creases – our SEG displays guarantee a flawlessly sleek look that demands attention.
Customization is key when it comes to meeting your branding requirements. That's why our SEG displays offer the flexibility of single or double-sided printing. This means you have the freedom to choose the display style that best aligns with your message and audience. Maximize your visibility with double-sided prints or keep it sleek and simple with a single-sided design. Whichever you choose, rest assured that your graphics will shine vibrantly from every angle.
We understand the urgency of your marketing campaigns, and that's why we prioritize fast turnaround times without compromising on quality. When you partner with us, you can expect timely delivery of your customized SEG displays, ready to captivate your audience. To ensure your complete satisfaction, we also offer a free artwork proof. This allows you to visualize the final product before it goes into production, giving you the peace of mind that your brand's integrity will be maintained.
We believe that your brand deserves to stand out in a unique and memorable way. That's why our SEG displays come with custom options that empower you to unleash your creativity. Whether you're looking for specific frame profiles, dimensions, or finishes, we've got the resources and expertise to bring your vision to life. Our goal is to provide you with a tailor-made display solution that perfectly aligns with your brand identity and marketing goals.
Are you looking to add an extra layer of sophistication to your booth or display? Consider the Signwin SEG Backlit Lightbox. This remarkable innovation takes SEG technology to the next level. The silicone strip effortlessly integrates into the groove of an aluminum frame, creating a mesmerizing frameless appearance. The added feature of backlighting elevates your graphics, making them pop and come to life in any environment. Whether you're enhancing retail signage, restaurant decor, or trade show displays, the Signwin SEG Backlit Lightbox is the perfect choice.
Our SEG display solutions are incredibly versatile and find their place in various settings. From retail environments to hospitality establishments, trade shows to interior spaces, our SEG displays create a powerful visual impact. They're ideal for exhibition banners, standing banners, fabric banners, and banner displays. The portability of our SEG frames ensures that your brand can make a statement wherever you go, making them a must-have for your marketing arsenal.
In 2023, the demand for innovative and visually striking displays is higher than ever. That's where Signwin steps in. As a trusted leader in the industry, we've honed our craft to provide you with SEG fabric frames, banner frame stands, portable banner stands, and much more. Our commitment to quality, customization, and customer satisfaction sets us apart. When you choose Signwin, you're choosing excellence.
Elevate your brand's presence with our top-of-the-line SEG frames and displays. From SEG fabric technology to customizable options, we offer everything you need to create a stunning visual impact. Explore our range today and experience the Signwin difference for yourself.
Application Scenarios:
Indoor & Outdoor Advertising, Shows, Exhibitions, Events, Fairs, Promotions, Weddings, Parties, Photo Booths, Press Conferences, Seminars, Stages, Concerts etc.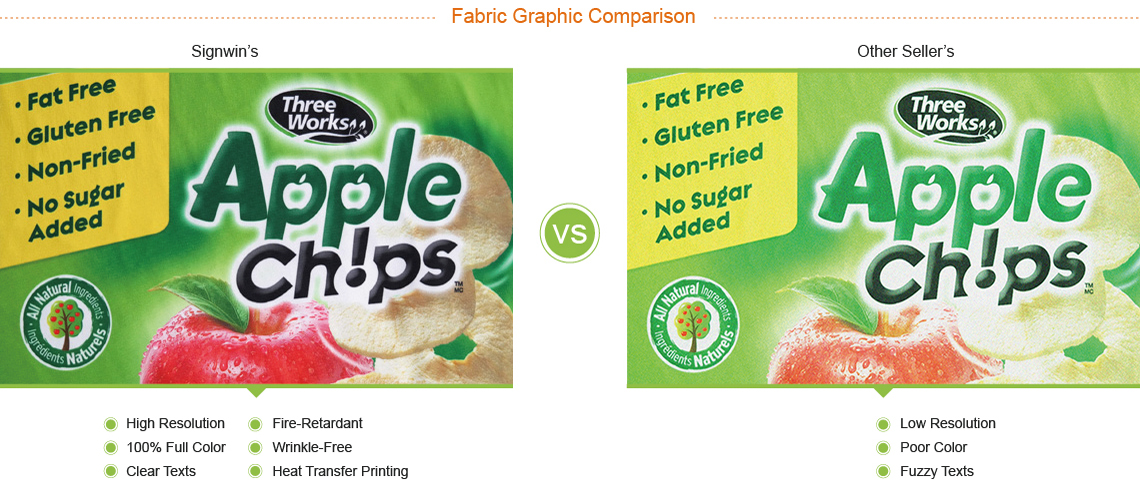 Standard Kit Includes:
1pc 10ft Flat & Collapsible Aluminum Snap-Tube Frame

1pc High Resolution UV Printing Tension Fabric Silicone Edge Graphic
1pc Zippered Oxford Duffel Bag
Specifications:
Display Size: W118.1" x H88.6" x D17" Inches
Graphic Size: W118.9" x H89.37" Inches
Package Size: W57" x H13.5" xD7.5"(Box1) and W48.5" x H13.5" x D7.5"(Box2)
Fabric Graphic Material:

6 oz. Premium Backlit Fabric
Customer Reviews (0)
Frequently Asked Questions
Q:Can I Print in Double Sides?
A:
Yes, you can print in double sides either with same or different graphic design.
Q:How Fast Can I Get the Product?
A:We typically ship the products next business day for orders placed before 4PM (PST) or same business day for orders placed before 12PM (PST) along with rush production option checked. Production and turnaround times are affected by artwork and/or payment issues.
Check Hot Product Tags Inspired by Customers Like You Who Viewed This Product