20x20ft Custom Trade Show Booth 02
Your Price: $15,299.90

- Hassle-Free Online Design Tool
- No Hidden/Setup Fee
- Free Ground Delivery on Orders over $900
Your Price: $6,613.95

- Hassle-Free Online Design Tool
- No Hidden/Setup Fee
- Free Ground Delivery on Orders over $900
Your Price: $8,685.95

- Hassle-Free Online Design Tool
- No Hidden/Setup Fee
- Free Ground Delivery on Orders over $900
Product Descriptions
The advantages of custom trade show booths are known at many levels of the exhibition industry. Signwin Display, a company that focuses on trade show displays, will help you out to achieve the goal by creating a unique, eye-catching medium to attract potential customers. Implementation of colorful designs and models could make passersby curious about your brand and the products you want to introduce. Don't be shy to pour any ideas into making your own unique displays. Signwin Display will also give you preferences in case you haven't prepared.

The trade show booth 02 kit is affordable and customizable. The frame is made of durable and lightweight aluminum tubes, which are tied together with elastic cords for easy installation. Your artwork is custom printed on the stretch fabric through our dye sublimation process. This produces a vivid high-resolution graphic that can be slid onto the frame pillowcase. The bottom edge is closed with a strong zipper, which can be tightened to create a professional, wrinkle-free, and eye-catching finish.

In order to better express your business image, we use 100% polyester straight-grain fabric, which is washable, wrinkle-free, flame-retardant, and environmentally friendly. In addition, the fabric graphics extend to the edge of the end cap, which will make your display look perfect. Signwin Display will offer any trade show booths you want and an impact on the attendees.

Applications:
Indoor & Outdoor Advertising, Shows, Exhibitions, Events, Fairs, Promotions, Weddings, Parties, Photo Booths, Press Conferences, Seminars, Stages, Concerts etc.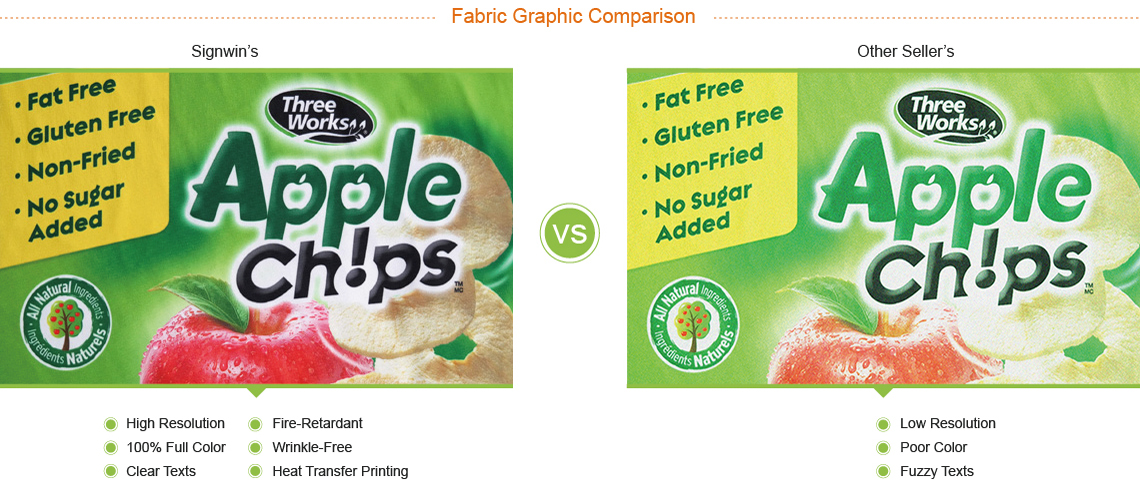 Standard Kit Includes:
1pc Custom D10ft x H3ft Circular Tube Tradeshow Hanging Sign
1pc Custom W18ft x H9.5ft x D4ft Archy Monitor Display Banner Stand
1pc Custom W18ft x H9.8ft x D4ft Archy Monitor Display Banner Stand
1pc Custom W13ft x H10.4ft Sectorial Top Tension Fabric Backwall Display
2pcs Custom W62" x H31.5" Parachute-Shaped Tension Fabric Headers
2pcs Custom W3.3ft x H9.8ft x D1.3ft 3D Vertical Columns
2pcs Rectangular Display Tower Counters with Fabric Printing
1pc Hard Case to Podiums with Custom Printed Graphic
1pc Snakelike Brochure & Literature Banner Stand
1pc Triangular Display Tower Counter with Custom Graphic
Customer Reviews (0)
Frequently Asked Questions
There are no frequently asked questions for this product...